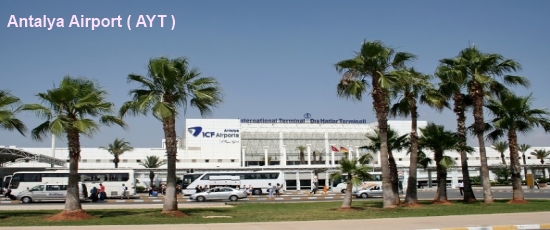 A modern Turkish Airport, the gateway to the Turkish Riviera.
In April 2007, a consortium of Fraport and IC Ictas Holding broke all records in Turkey by securing the tender to operate all three airport terminals in Antalya with a total concession payment amounting to Euro 2,37 billion. The concession for operating all three terminals runs until the year 2024 : 17 years for International Terminal 1 / Domestic Terminal and 15 years for International Terminal 2.
There are two international and one domestic terminals at Antalya Airport. The most of the direct Uk flights to Antalya do land at the Terminal 1 but some uses terminal 2. Here is the brief information which airlines land at Terminal 1 and which lands at Terminal 2 as of the enf of 2011 ( this information may change )
Thomas Cook Uk Thomson Air
There are direct flights from several Uk airport to Antalya Airport during the year, but the most of the flights run during the summer season. Generally, Gatwick and Manchester flights run during the winter period. But in the summer period there are flights from Exeter, Eastmidlands, Manchester, Gatwick, Luton, Humberside, Newcastle etc. The winter flights are mostly run by Thomas Cook.
The Resorts Served By Antalya Airport
- Antalya City Centre ( About 20 Mins )
- Lara Beach & Kundu ( About 20 Mins )
- Belek & Kadriye ( About 40 Mins )
- Manavgat ( About 1 hour 10 Mins )
- Kizilagac ( About 1 hour 15 Mins )
- Alanya ( About 1 Hour 40 Mins )
- Mahmutlar ( About 2 hours )
- Tekirova ( About 1 hour 15 Mins )
- Camyuva ( About 1 hour 10 Mins )
Popular Private Transfers that TransferS4Cheap.com offer from Antalya Airport
TransferS4Cheap
.com offers transfers to all the resorts that served by Antalya Airport. Please make a search for your resort from the search box on our HOME PAGE.Please note that the transfer times given above are estimated and may change according to the vehicle type, road & weather conditions. TransferS4Cheap.com offers Both Shuttle Bus / Hoppa Bus and PRIVATE transfers at Antalya Airport.